Bahamas Telecommunications Company (BTC), the primary communications provider for the Bahamas, was having difficulties upgrading their subscribers' phones to models that were compatible with the new 4G network. They had invested lots of resources in deploying the 4G infrastructure so they wanted their subscribers to upgrade to higher ARPU 4G data plans.
It is important to note that smartphones and 4G penetration in Latin America and in the Caribbean are much lower than in the United States. There are some countries where 40% of the population does not have smartphones and only 25% have access to a high-quality 4G network. Thus many Telecom Carriers face similar challenges to upgrade their smartphone base to phones that are 4G compatible.
With 20 years of customer engagement experience we knew that in order to get subscribers to upgrade their phones to newer models, they needed some type of incentive. Based on this concept we came up with a marketing campaign to giveaway 4G phones to a group of VIP customers. BTC had millions of subscribers so we knew that all customer interactions needed to be extremely personalized.
Messangi launched a personalized SMS and mobile wallet campaign to a group of VIP customers where they would receive an SMS with a Mobile Wallet coupon for a free LTE phone. This allowed us to target the exact audience, get a message directly on their phones and provided a convenient way for subscribers to redeem the promotion. Leveraging Mobile Wallet technology, we activated location-based campaigns such that every time a customer drove or walked by the store, they received a push notification on their phone reminding them to redeem the offer.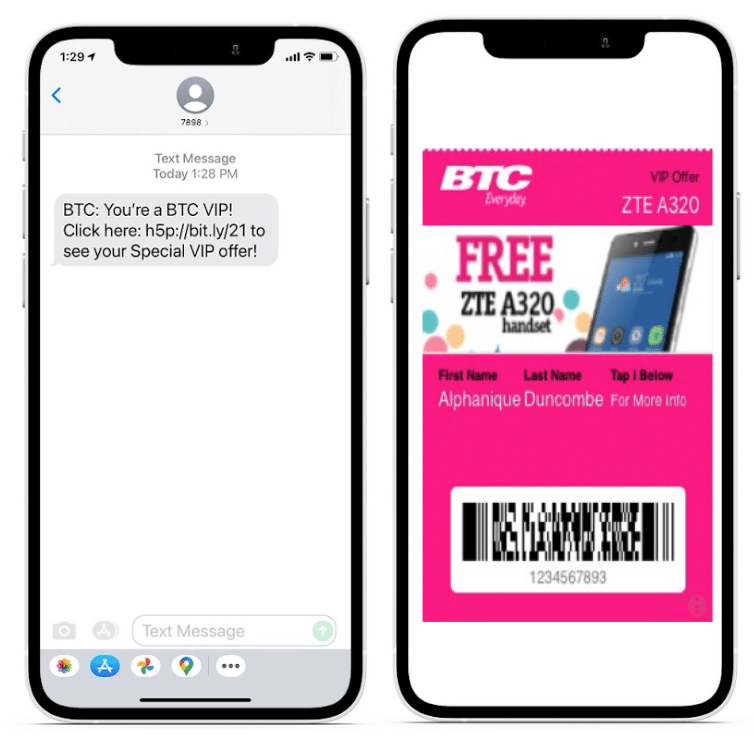 "More than 60% redemption"
The result of the campaign was outstanding, more than 60% of the VIP customers redeemed the offer, the customers got the message right into the palm of their hands and easily upgraded their plan by just running into the store and scanning the barcode in the message.
The importance of communication is not important in just how many people it can reach, but the effectiveness and how targeted an ad can be to the desired audience.