Customers want to connect with businesses in the same way they chat with their friends and family.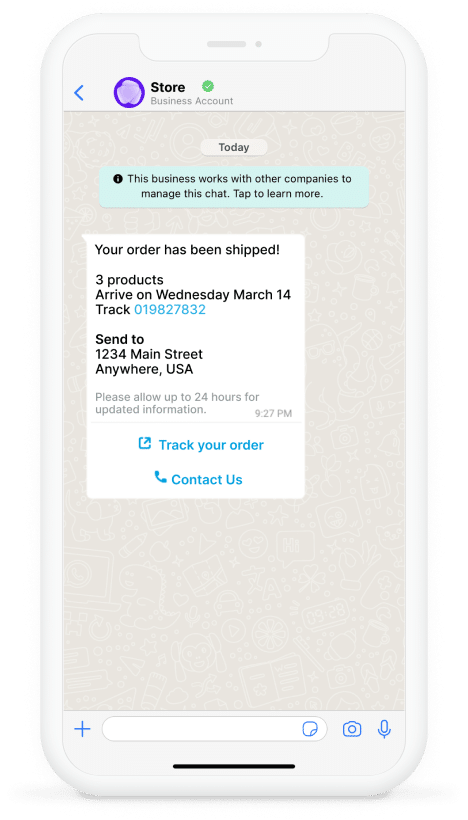 2 billion users in 180+ countries makes WhatsApp the most-popular messaging app in the world. A platform with a user base of 68.1 million in the US alone cannot be ignored. With Messangi you can easily send WhatsApp messages and tap into that universe to generate leads or engage your current customers, that most likely use WhatsApp at least once a day.
As your WhatsApp Business Solution Provider, we are here to help you connect with your customers at every touchpoint on their favorite app.
WHATSAPP BUSINESS BENEFITS
Our APIs hide the complexity of hosting and scaling WhatsApp software so that you can focus on elevating customer experiences where what they only need is Wifi.
Once you get a taste of what Whatsapp Business offers, you'll discover that it's a perfect B2C communication channel and customer service solution. Messaging has emerged as a convenient and necessary two-way customer communication channel.
Contact Us
Since the app uses phone number-based addressing, the user's phone number is—by default—a verifiable source for extra security measures and peace of mind. Any chats you have with customers, including written messages, photos, videos, voice messages, documents, status updates, and calls, are protected from falling into the wrong hands via WhatsApp's end-to-end encryption.
Contact Us
CONNECT WITH YOUR CUSTOMER IN A WHOLE NEW WAY
Messaging apps like WhatsApp have capabilities that allow you to have a more significant impact on customer satisfaction, while expanding your reach,  managing support costs, increasing conversions, and achieving your business goals.
Get ready to connect with your customers in a whole new way. Request access for your WhatsApp Business Profile today, and we'll walk you through the process, to put it operative in no time.
Turn leads into customers with less effort today!