Alumni cards have been an enduring tradition, symbolizing a tangible connection to one's alma mater. These plastic mementos, while cherished, come with certain drawbacks: they're expensive to create, cumbersome to distribute and replace, and due to limited physical wallet space, often remain unused. In our fast-paced digital age, we present a contemporary solution that addresses these challenges and amplifies engagement.
Understanding the Mobile Wallet: More Than Just Payments
Before diving into the world of digital alumni cards, it's essential to grasp the concept of a mobile wallet. Many associate Apple Wallet (formerly Passbook) and Google Wallet primarily with electronic payments. While they are pivotal in digitalizing payments, their functionalities stretch far beyond. Mobile wallets are essentially digital versions of everything you'd carry in a physical wallet: cash, credit cards, loyalty cards, boarding passes, event tickets, and more. They're designed to consolidate these items in a digital form, securely stored on your smartphone. With features like push notifications and geolocation services, these wallets aren't just storage tools; they're dynamic platforms for real-time engagement.
Introducing the Digital Alumni Card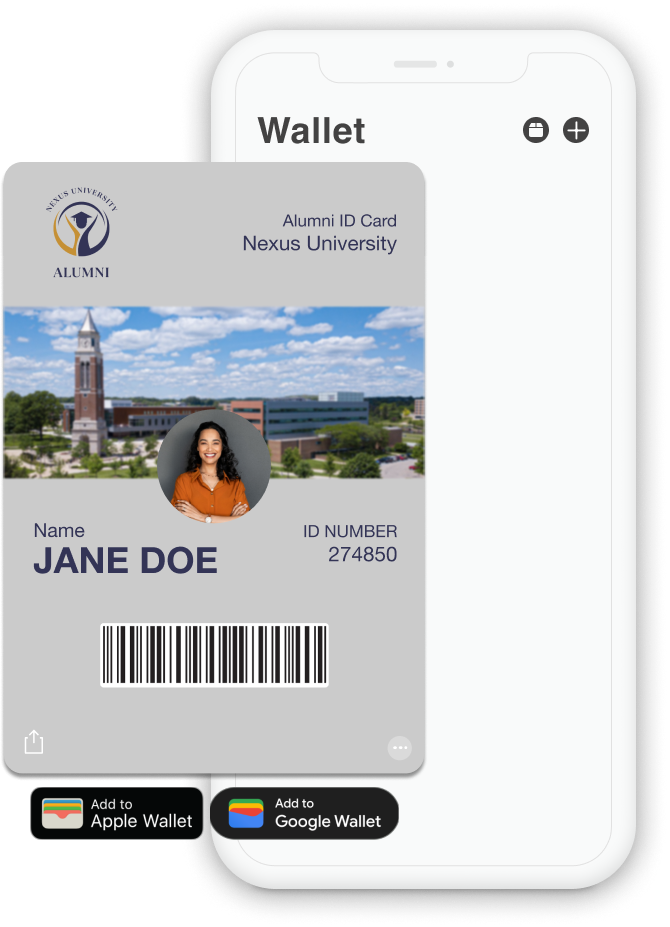 Pictured above is a glimpse of the future: a digital alumni card comfortably nestled within your smartphone.
Key Advantages of Transitioning to Digital:
Universal Accessibility: Compatible with popular platforms like Apple Wallet and Google Wallet, digital alumni cards ensure that alumni are always connected, with their alma mater just a tap away.
Instant Distribution: Ditch the traditional mail system. Our solution facilitates direct distribution through Email, SMS, or WhatsApp, streamlining the entire process
Active Engagement: Once the card is in their mobile wallet, alumni can receive push notifications or location-based messages, creating a continual touchpoint between the university and its alumni.
Reaping the Benefits:
Prompt Delivery: Digital cards can be dispatched to alumni in real-time, anywhere in the world.
Cost Optimization: Without the need for physical production and distribution, universities can reallocate resources to enhance alumni experiences.
Heightened Engagement: The digital format facilitates seamless communication, fortifying the bond between the institution and its community.
Sustainability: Transitioning to digital signifies an eco-conscious step forward, reducing the carbon footprint and showcasing the institution's commitment to environmental sustainability.
Merging Tradition with Tomorrow:
The fusion of tradition and technology encapsulates the essence of the digital alumni card. While it preserves the symbolic connection of a traditional card, it simultaneously harnesses the power and convenience of modern-day tech. For institutions eager to be pioneers in alumni engagement, our digital solution is the way forward. Marrying cost efficiency with green initiatives and cutting-edge engagement, we're ushering in a new era of alumni relations.
Join us in this evolution. Connect today for an in-depth demo and let's craft the future together! This expanded post offers a comprehensive understanding of mobile wallets and emphasizes their versatility beyond just payments, providing a holistic view of the advantages of digital alumni cards.